Details

Category: Industrial Secure Digital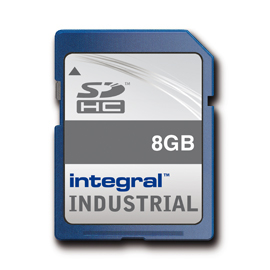 The Integral Platinum (Pt) SD and SDHC memory cards have a super-speed SLC chipset, operating at industrial temperatures. For the ultimate in reliability and performance Platinum Series SD and SDHC are the perfect choice.
Integral Memory Platinum (Pt) Series Secure Digital (SD) and Secure Digital High Capacity (SDHC) memory card is a solid state storage product that complies fully with the SD card Specification v1.1 and SD card specification 2.0. The Integral Pt series SD cards are based on SLC Industrial Temp NAND and are available in capacities up to 8GB. Integral Industrial cards come with full BOM control and a long life cycle with continuity of supply that is paramount to OEM manufacturers. Custom labelling, ID and content preloading is available on request.
Features:
Industrial Temperature SLC-NAND Flash Technology
Card Capacities: 1GB-2GB (SD), 4GB-8GB (SDHC)
Supports SD 1.1 and 2.0 specification
Supported Interfaces: SD card mode or SPI mode
Write Protect Feature using mechanical switch
High Data Reliability
Lightweight